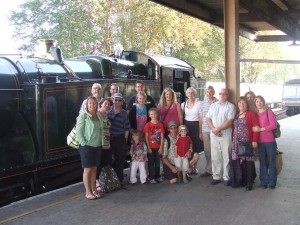 Early  October, usually the start of Autumn , with cooler weather and grey skies, when band members , families and friends enjoyed a day out incorporating a River Dart boat cruise and steam train ride.
A hot sunny morning  heralded an early departure from Ottery St. Mary. Hardly a cloud in the sky as the hired minibus arrived at Paignton for the first leg of the Round Robin trip aboard an open top bus  to Totnes.
After a quick cuppa and brief look at the ancient town of Totnes, the trip continued with a trip down the Dart aboard the Cardiff Castle. A highlight for many during the cruise was the sight of Canada geese, cormorrants, buzzards, and a solitary seal, as well as spectacular views of the wonderful Devon countryside.  The boat paused for time to photograph and view the famous Agatha Christie house overlooking the Dart near Dartmouth.
Arrival at Dartmouth was time for lunch, when local fish and chips were sampled, and ice cream later to accompany a look round the old former fishing town, now well known for its Royal Naval College, and starting point for many famous voyages. Drake and Raleigh were regular visitors. The town is fortunate a have a bandstand in its central park where Totnes and a few other local bands perform concerts through the summer.
A ferry crossing to Kingswear preceded the final leg of the journey, a steam train ride back to Paignton. Arriving back at Ottery St. Mary , with a few of our younger members slightly jaded after a long day. The youngest member of our party just a toddler, and the oldest over 80, all agreed a good day out, and a chance to relax together away from the band environment, after a busy summer season.